STEAK & RAISON
Apple-wood barbecue fired steaks, served with sharing bottles of our favourite cider
Yew Tree, Peterstow
12:00 – 6.00PM
Outdoor barbecue with a single goal: to celebrate cider
DATES:
Monday May 1st
Sunday May 28th
Sunday June 25th
Sunday July 16th
Sunday August 13th
Live music 2pm – 4pm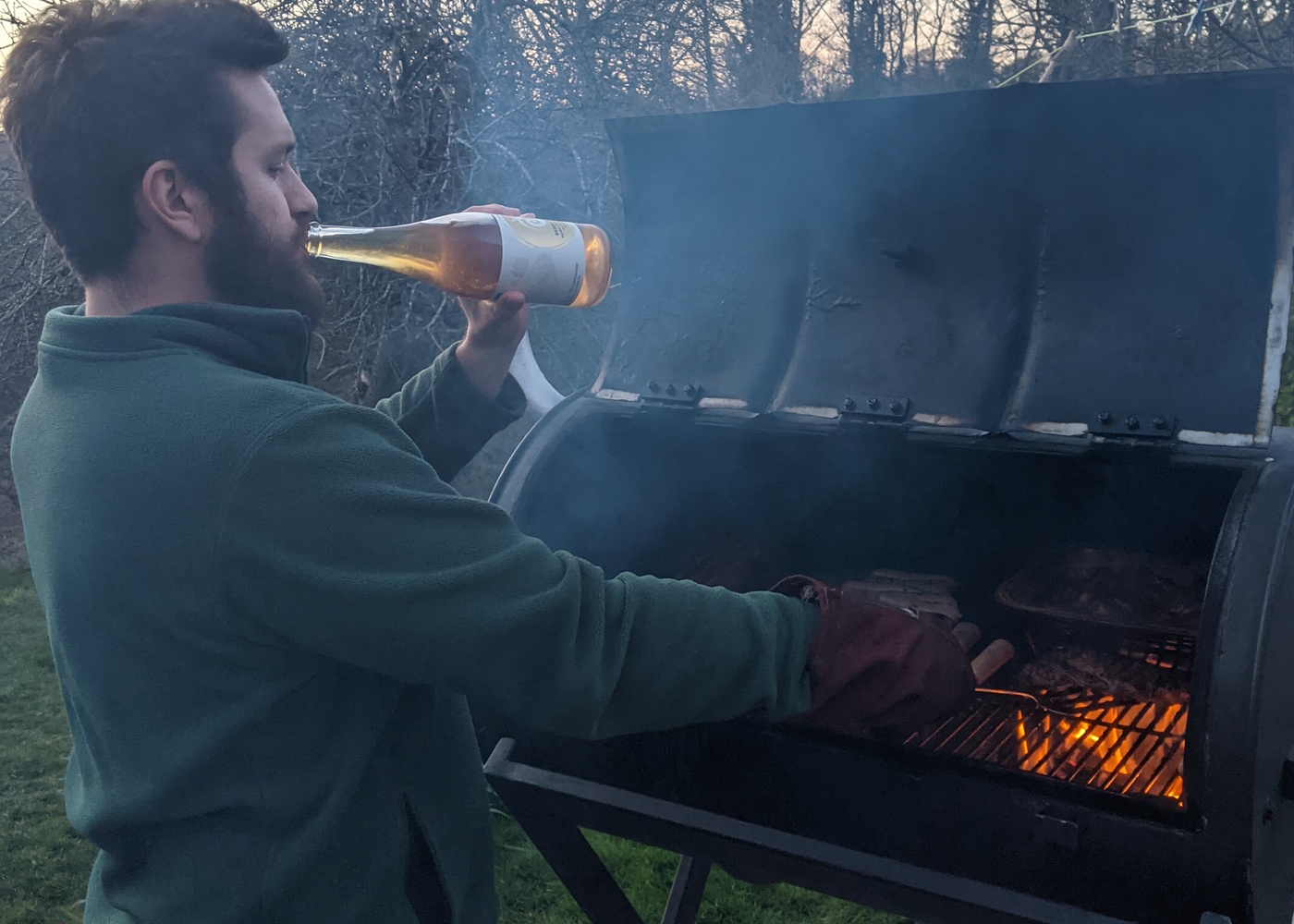 Driven by Albert's passion for cider as a tool for food pairing, we will be hosting five days of cider festivity throughout the summer.
Inspired by the Basque cider culture of sharing and community, as well as the highly regarded match of beef steak with dry cider.
A simple menu, with a classic cider pairing: Raison d'Être, steak, and chips.
Plus vegetarian & vegan alternatives!
Menu
Raison d'Être 2020
Raison d'Être 2019
Steak
Chips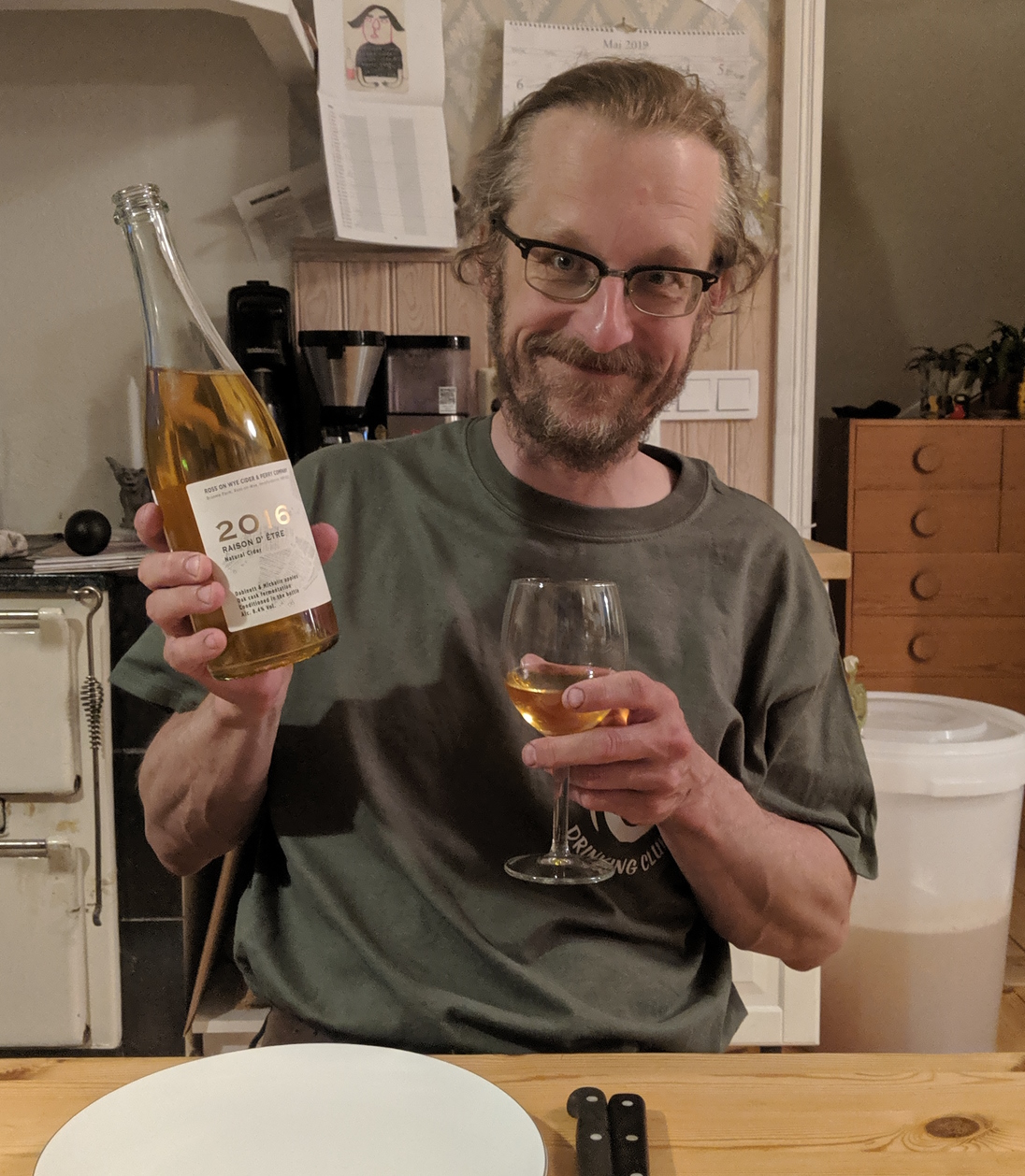 Albert's journey to Steak & Raison day

At the 2018 Cider Festival, we launched Raison d'Être as our first aspirational cider.
Raison d'Être is the quintessential expression of cidermaking on our farm. Our philosophy in a single cider: clean, ripe, bittersweet apples wild fermented in oak casks, matured patiently and quietly, and bottle conditioned. This is a cider with drinkability, complexity, and identity, that takes you on a journey from the first sip to the last, with the flavours evolving and developing across the palate. This cider is the result of two years of care and attention, and tells you the story of our home – a story of fruit, tannins, and time.
From the very first time I tried this cider with steak, I was in love. An early highlight was visiting our friends Emil and Emily in Sweden in May 2019, and enjoying a bottle (or two) of Raison d'Être 2016 with steak from cattle that had been freely grazing in the forests of Dalarna.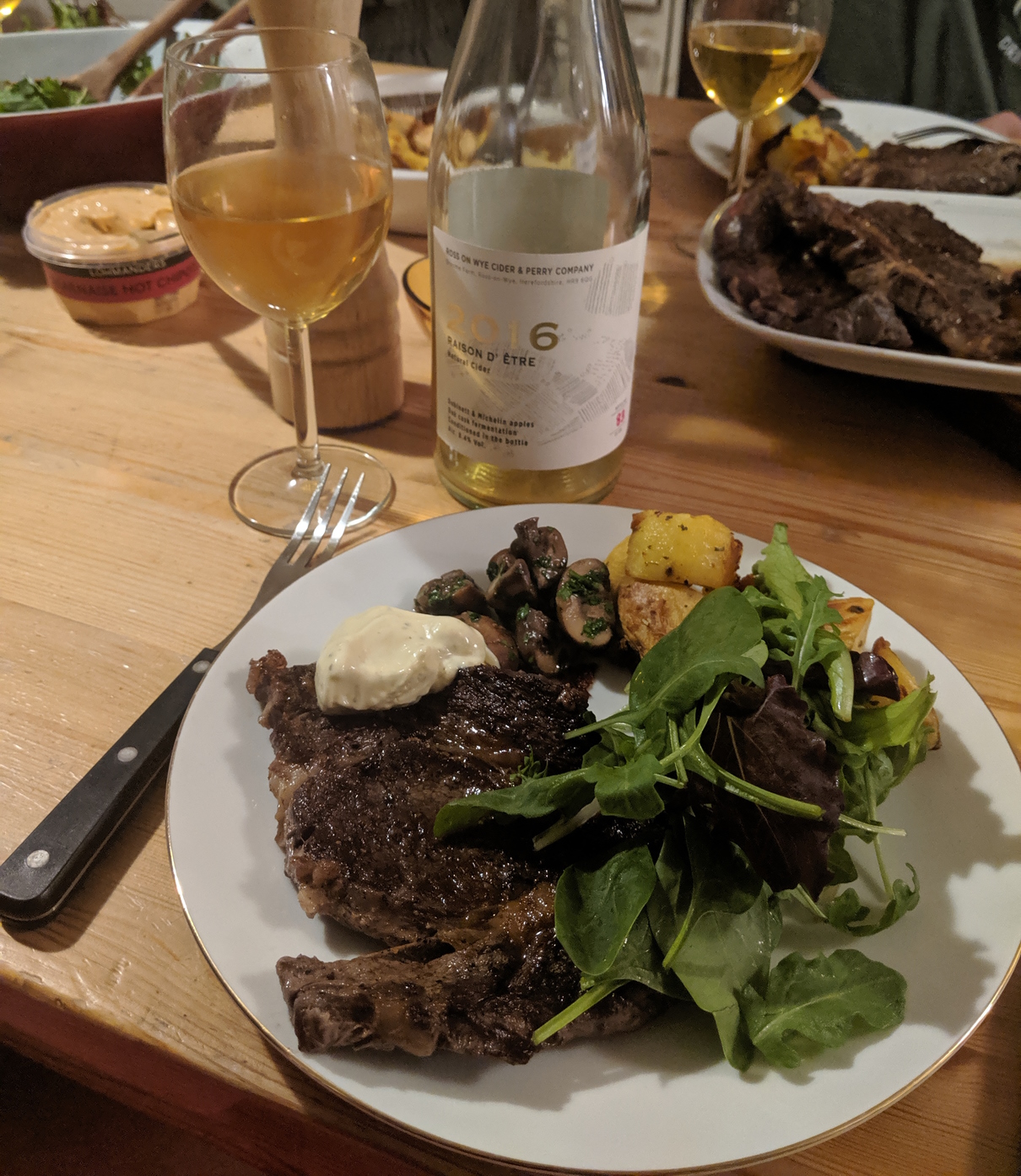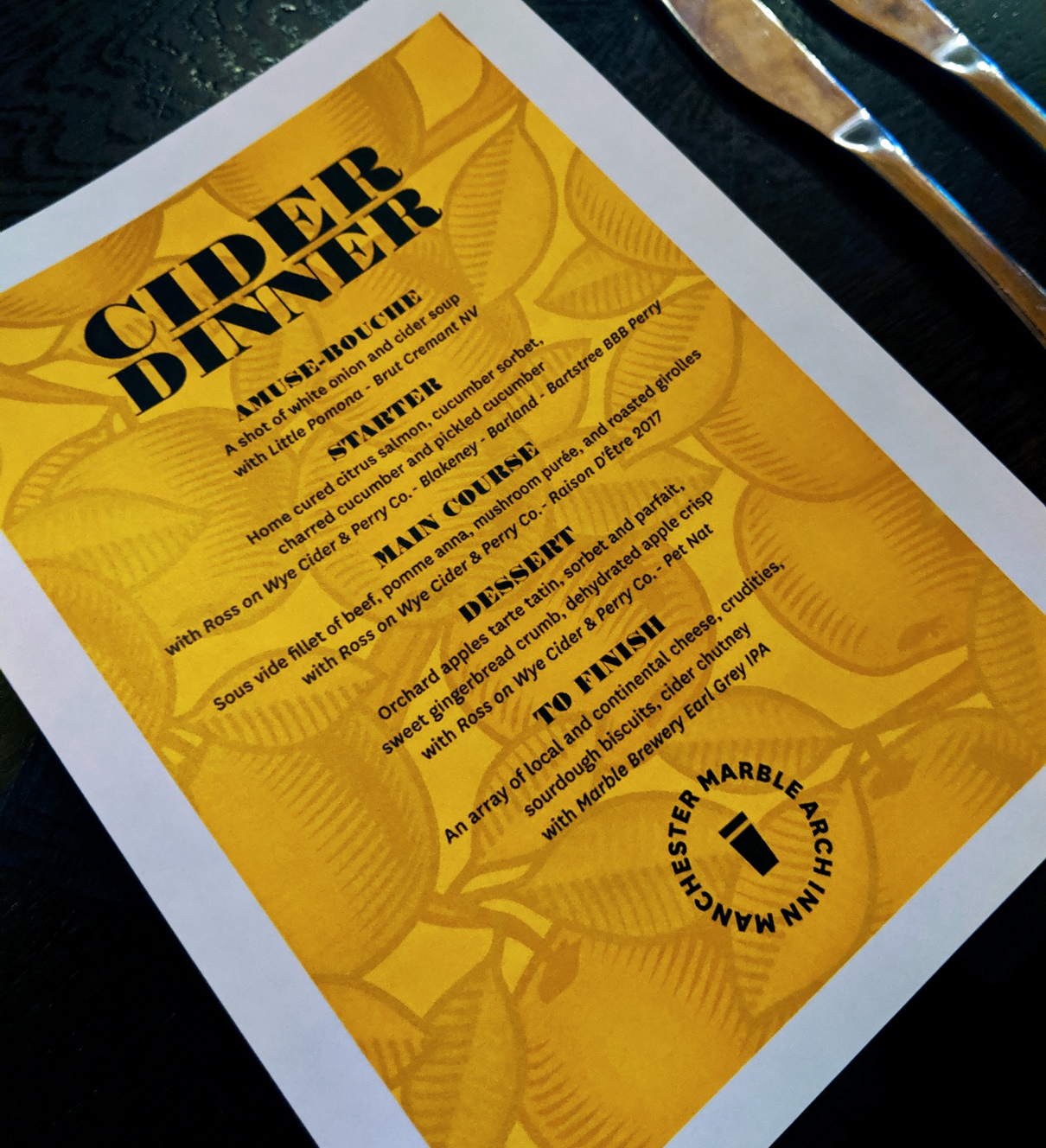 Later that year, we had the joy of organising a five course cider dinner at the iconic Marble Arch pub in Manchester, home of Marble Brewery. The centre piece of this was of course, Steak & Raison. By this time, the 2017 Raison d'Être was out, and it was re-affirmed to me that this style of cider is a match made in heaven to accompany steak.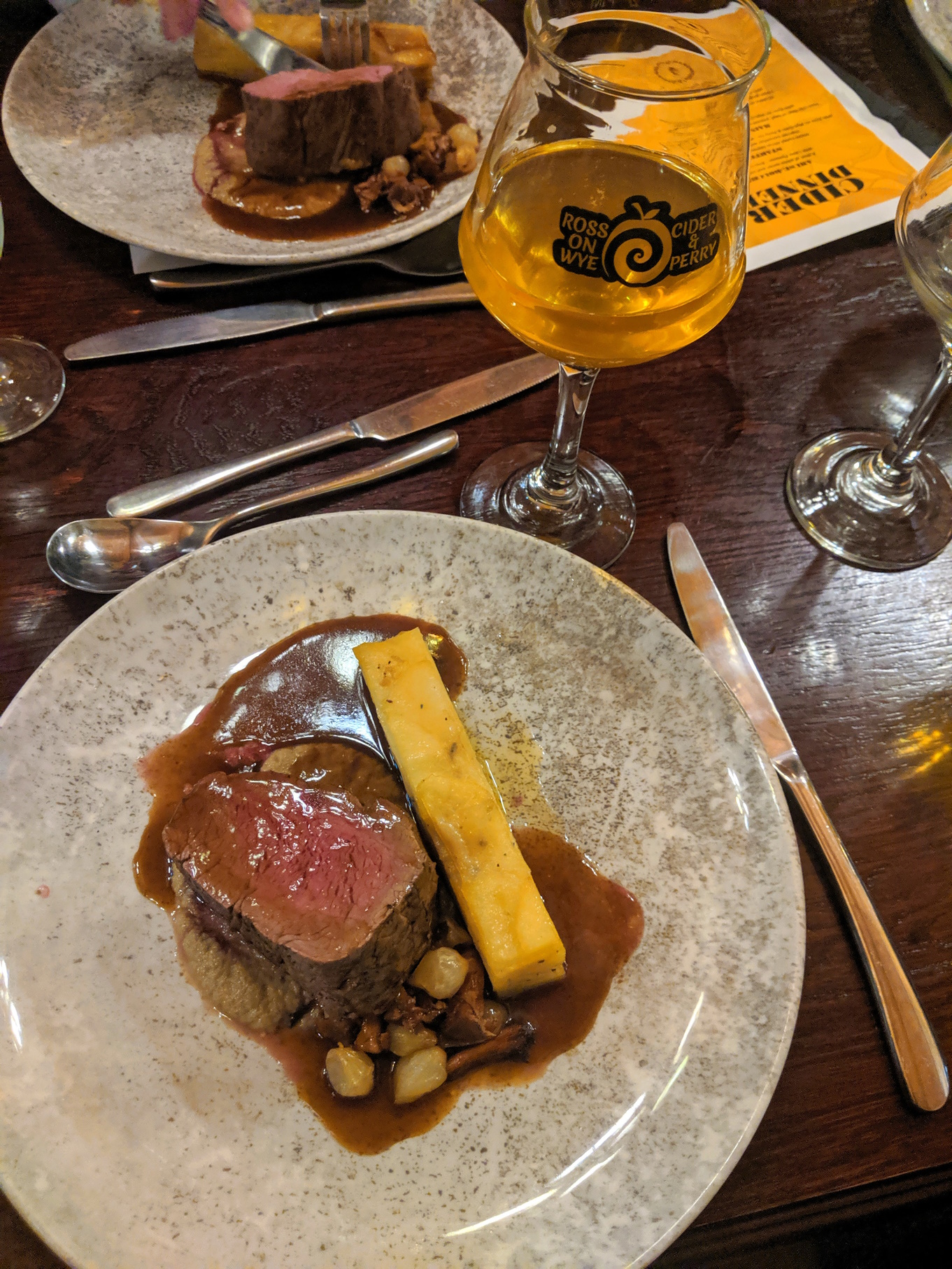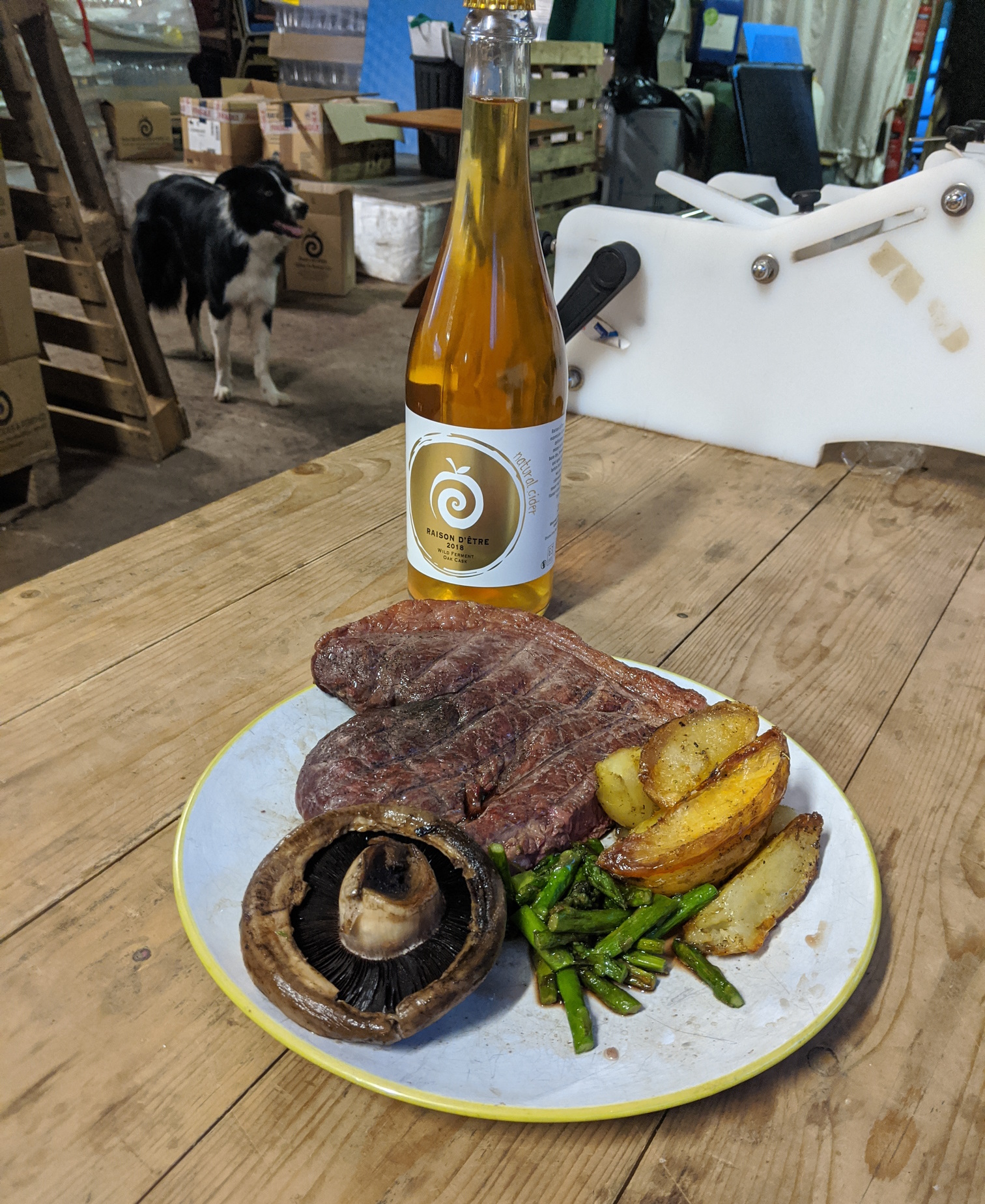 Again and again when given the chance, I choose to cook this meal for family, friends and new visitors. Pictured on left was our first meal out of lockdown in 2020, Raison & Steak the menu option for re-connecting with friends after that first long period of isolation. On the right a dinner cooked for my brother and I, the first time I introduced Martin to my favourite dish.