COVID-19 UPDATE
The 2020 Cider Festival is CANCELLED. We were hoping for a better situation come September, but it has not come to pass. If you bought a ticket and missed our email, please don't hesitate to get in touch to either confirm your ticket for next year or ask for a refund – info@rosscider.com
The 2021 Ross Cider Festival
Tentative dates: Friday September 3rd - Sunday September 5th
TICKETS WILL BE AVAILABLE WHEN THE EVENT CAN BE CONFIRMED
All our fingers are crossed that small scale events like our festival will be possible again by Autumn 2021, but until we are sure of that, we are not offering new tickets for sale.
The highlight of our year – our annual celebration of cider
Three days of live music, amazing high quality food, ten quality visiting cidermakers, Thursday night Cider Club, four nights of camping, all enjoyed in a unique, friendly, welcoming atmosphere of our family friendly festival.
Cider Festival tickets are £40 Friday to Sunday.
If you choose to camp, it is just £15 for camping per person, and you are welcome to arrive from Thursday and depart Monday.
Due to growth in the number of campervans, motorhomes, etc, this year we have added a small £10 surcharge per vehicle for the festival. This lets us spend the extra time preparing more areas of the farm for your vehicle and reserving those slots.
Day tickets will be released later in the year, pending availability.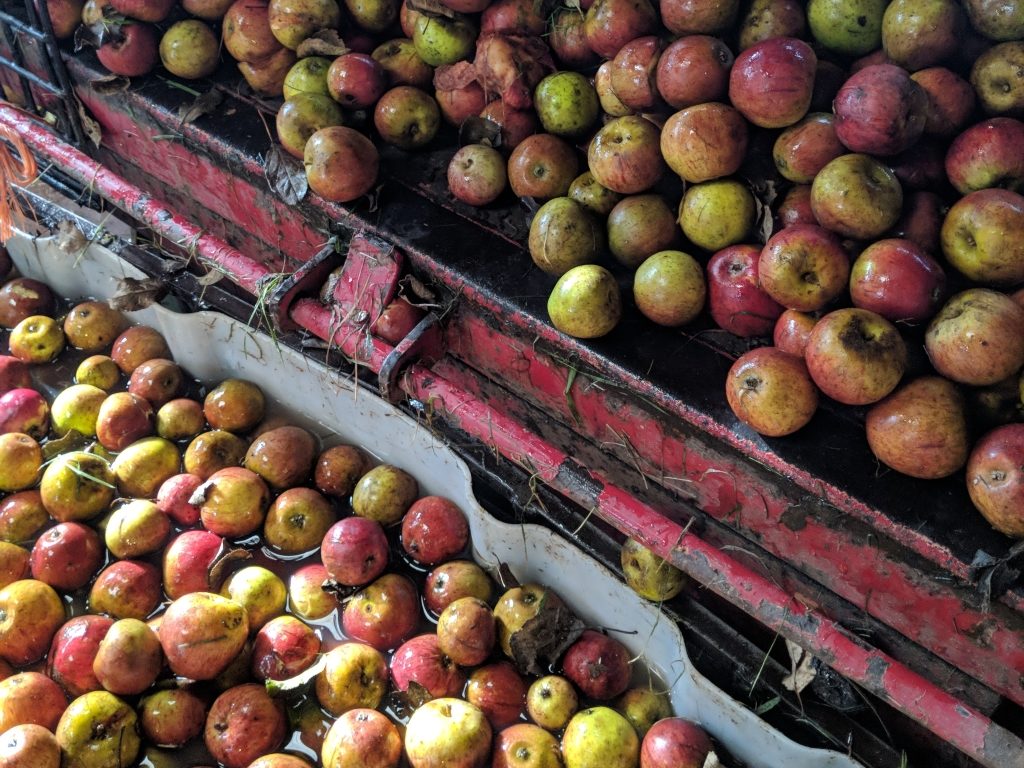 A weekend of delicious food, excellent music, wide ranging beer and of course, incredible cider.
You will be part of a small festival of enthusiasts and ciderlovers who welcome you with open arms into our community.
A friendly festival suitable for families with entertainment throughout the weekend.
An excellent getaway to end the summer and celebrate local craft cider! See you there!
More information is available in the FAQ.
FESTIVAL FRINGE
Arrive on Thursday and attend Cider Club!
Maintaining our annual tradition of an international cider club, join us on Thursday night to listen and speak to Marco Manfrini, aka Oak City Cider, from Trentino in Italy, for a tour of Italian cider!
2019's special presenter was Haritz Rodriguez, AKA 'Ciderzale', all the way from the Basque Country! In 2018 we had the pleasure of Kate Garthwaite and The Ciderologist.
£10 Entry, on the door. All your tastings, all your food, all their knowledge.
Ploughman's buffet served afterwards
Begins 7PM, in the festival barns
Festival bar open as well – beers, wines, etc
Children 17 and under do not need a ticket.
Music played and food served throughout the weekend
Come and meet local cidermakers on Saturday 5th September
On the right is a map explaining the camping set up at the farm. As in past years, you are also welcome to camp in the entrances of our orchard rows.
Celebrate the heritage of Herefordshire and the Three Counties
Experience the traditional drink of this region, served by the producers themselves

Enjoy Cider made from the fruit grown in the very same orchards you camp in