Description
You may have arrived here by mistake! You can now book your camping on this page: https://rosscider.com/camping/ – only book here if you are paying as part of a group.
Pay here to book camping for the wedding of Suzanna and Tom, or the Lambourne camping group for the May Bank holiday.
Broome Farm Orchard Camping must be pre-booked via email with info@rosscider.com
You will be directed this page to prepay for your camping to confirm your booking.
Camping is £9 per adult per night, but children 17 and under are free. Dogs are welcome, but must be kept on a lead.
Please adjust the quantity to the total number of nights you will be paying for. So if you have two adults in your group for two nights, set the quantity to 4. If you have four adults in your group for two nights, set it to 8. Etc!
If you will be paying with a different name than used to complete your booking form, please include a note in the order on the checkout page.
To amend or cancel your booking, please email info@rosscider.com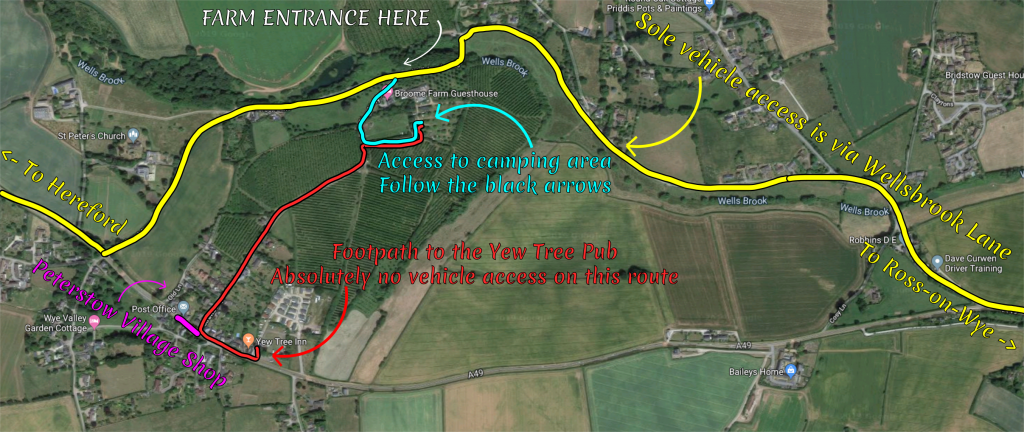 When you arrive at the farm, please follow the black arrows around in a loop as shown on the map above to the Old Orchard.
No loud music after 11pm and please keep conversations quiet and respectful of others who may be there at you.
We do not have any electrical hookups available and there is no hard standing.
Please note this is a working farm with equipment. You are responsible for yours, your childrens and your parties safety. Please do not climb or interfere with the machinery or tractors, and beware of rabbit holes and stingy nettles!
This is a farm campsite, with a shower and toilet block as well as washing up facilities. An authentic rural Herefordshire experience, camping in the Old Orchard is a quiet and idyllic place to take your family or group to enjoy the summer. There is one male shower and one female shower, one male toilet plus urinal, two female toilets, and an accessible toilet.