COVID-19 UPDATE – 20/07/2021

The 2021 Ross Cider Festival is a half capacity event. This would mean that alongside those who rolled their 2020 tickets over, we would have around 100 event tickets available. In total you can expect between 250-300 people to be onsite at any time, with plenty of personal space available to you.
Covid Restrictions & Expectations 2021
A half capacity event is the single biggest change we can make to ensure the safety of everyone attending

We will be asking for proof of vaccination or proof of a recent negative test result within 48 hours. You can read this page on the government website for details of how to obtain these: https://www.nhs.uk/conditions/coronavirus-covid-19/covid-pass/

If you are unable to provide either of these, we will ask you take a lateral flow test on arrival.

We ask all attendees to respect the personal space of others, and to remain mindful at all times of the safety and comfort of those around them.

We encourage you to wear masks whenever entering enclosed areas like the toilets.

We are re-arranging the layout of the festival to provide a safer and swifter environment. For example, our bar will now be situated solely in the top cider barn. There will be no bar in the music barn.
The 2021 Ross Cider Festival
Friday September 3rd - Sunday September 5th
The highlight of our year – our annual celebration of cider
Three days of live music, amazing high quality food, ten quality visiting cidermakers, Thursday night Cider Club, four nights of camping, all enjoyed in a unique, friendly, welcoming atmosphere of our family friendly festival.
Cider Festival tickets are £45 Friday to Sunday.
If you choose to camp, it is just £15 for camping per person, and you are welcome to arrive from Thursday and depart Monday.
Due to growth in the number of campervans, motorhomes, etc, this year we have added a small £10 surcharge per vehicle for the festival. This lets us spend the extra time preparing more areas of the farm for your vehicle and reserving those slots.
We apologise for the small increase in price this year; this is to help us offset the cost of running the festival with half capacity.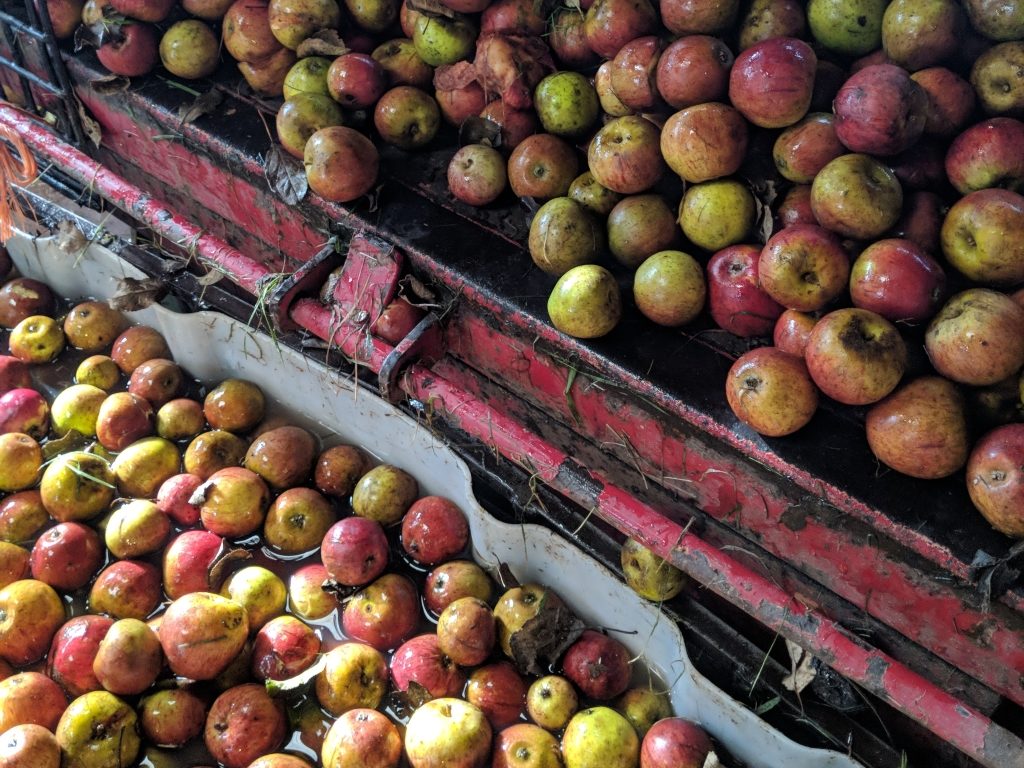 A weekend of delicious food, excellent music, wide ranging beer and of course, incredible cider.
You will be part of a small festival of enthusiasts and ciderlovers who welcome you with open arms into our community.
A friendly festival suitable for families with entertainment throughout the weekend.
An excellent getaway to end the summer and celebrate local craft cider! See you there!
More information is available in the FAQ.
FESTIVAL FRINGE
Arrive on Thursday and attend Cider Club!
Maintaining our annual tradition of an international cider club, join us on Thursday night for a talk & tasting from a guest cider producer as well as a cold food buffet.
2019's special presenter was Haritz Rodriguez, AKA 'Ciderzale', all the way from the Basque Country! In 2018 we had the pleasure of Kate Garthwaite and The Ciderologist.
£10 Entry, on the door. All your tastings, all your food, all their knowledge.
Ploughman's buffet served afterwards
Begins 7PM, in the festival barns
Festival bar open as well – beers, wines, etc
Children 17 and under do not need a ticket.
Music played and food served throughout the weekend
Come and meet local cidermakers on Saturday 5th September – number of guest makers TBD but will sadly be reduced compared to normal years due to lower capacity
The cider festival operates the Everyone Welcome Initiative. Anyone failing to treat their fellow attendees with respect will be removed from the festival.
On the right is a map explaining the camping set up at the farm. As in past years, you are also welcome to camp in the entrances of our orchard rows.
Celebrate the heritage of Herefordshire and the Three Counties
Experience the traditional drink of this region, served by the producers themselves

Enjoy Cider made from the fruit grown in the very same orchards you camp in